One Day Yellowstone Tour From Jackson
$249.00/person for 9 to 10 people; $270.00/person for 7 to 8 people; $355.00/person for 5 to 6 people; $445.00/person for 3 to 4 people; and a flat rate of $1250.00 for 1 to 2 people, not per person.
The lower loop is home to most of the geothermal areas of the park, while still providing great wildlife viewing opportunities. On this tour you move from Jackson through the Tetons and into Yellowstone, stopping at West Thumb Geyser Basin, then the Upper, Midway, Lower and Norris Geyser Basins, before heading east to the Grand Canyon of Yellowstone, south through Hayden Valley and back to Jackson. A skilled driver/guide accompanies you all the way, offering insights on the latest park updates and ecological studies. A sack lunch is provided today.
The Hayden Valley and the areas along the rivers are home to some of the park's most iconic animals. With any luck and depending on the season, you may find yourself within feet of elk, bison, bears, trumpeter swans, osprey and maybe even otters or wolves! Red bison calves (also referred to as red dogs) and migrating sandhill cranes are a springtime treat not to be missed!
Starting at your hotel in Jackson, the tour moves north through the Grand Teton National Park and into Yellowstone's south entrance. Please bear in mind that while we do drive through the Tetons, stopping on the way for great pictures, this is a Yellowstone tour so the only extra stops we will be making there are for pictures of special sights such as bear or moose.
Moving into Yellowstone, we stop at West Thumb Geyser Basin to explore the board walk on the edge of beautiful Yellowstone Lake before heading west and crossing the Continental Divide twice before reaching the Upper Geyser Basin, home of Old Faithful.
While Old Faithful is the most well-known feature, this area is a cornucopia of springs, geysers, and historical buildings. We will stay long enough to watch Old Faithful erupt, see the Old Faithful Inn and, time allowing, wander the boardwalks to take in some of the other features.
Moving on we will stop and view Grand Prismatic Spring and the now dormant Excelsior Geyser at the Midway Geyser Basin. There are other smaller basins between Upper and Midway which we will stop and see if there is time.
From here we will make the relatively short drive to the Lower Geyser Basin and Fountain Paint Pots, where we will get up close to all four geothermal features in the park, (hot springs, fumaroles, mud pots, and geysers) from the safety of an easy to navigate boardwalk. Across from the Lower Geyser Basin is Firehole Lake Drive. This is a less visited but beautiful home to some fun geysers and hot springs. With luck we will see White Dome, Pink Cone or one of the other geysers erupt as we drive past.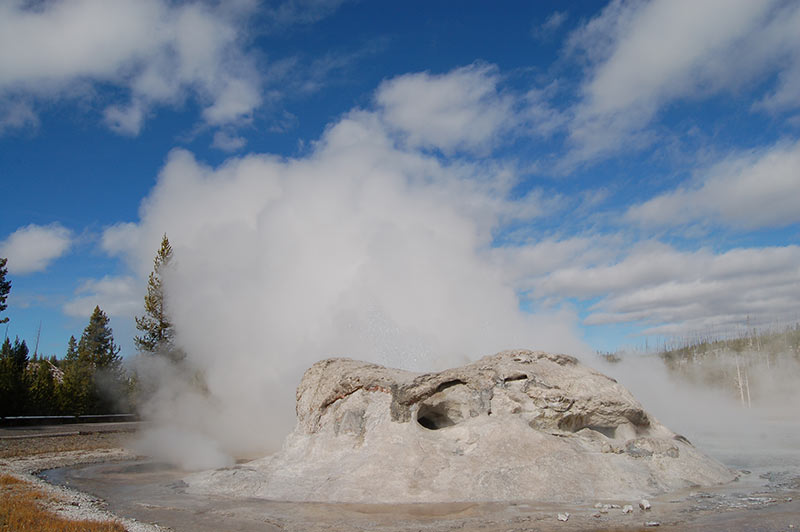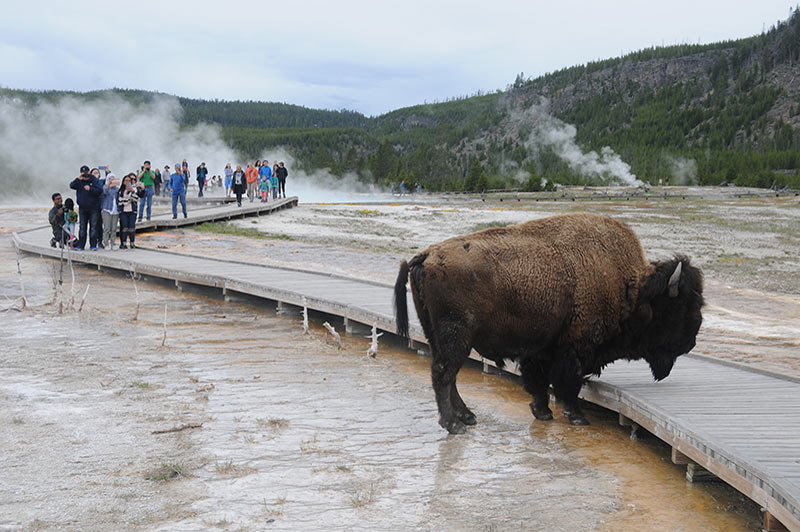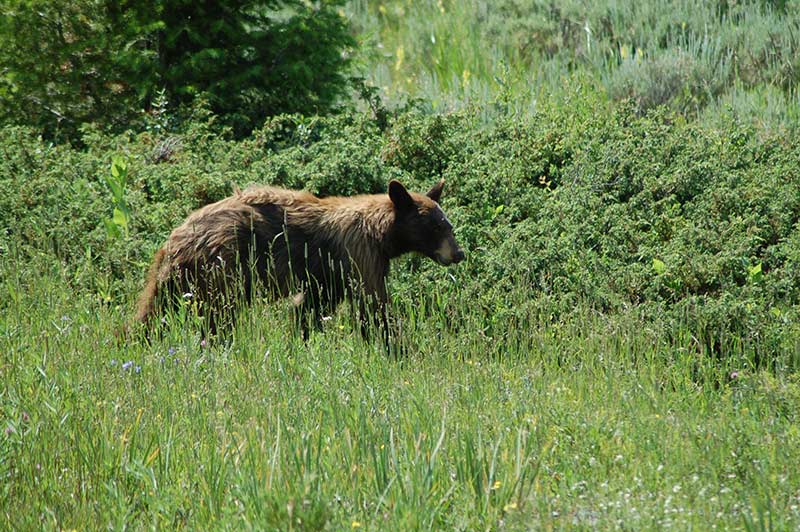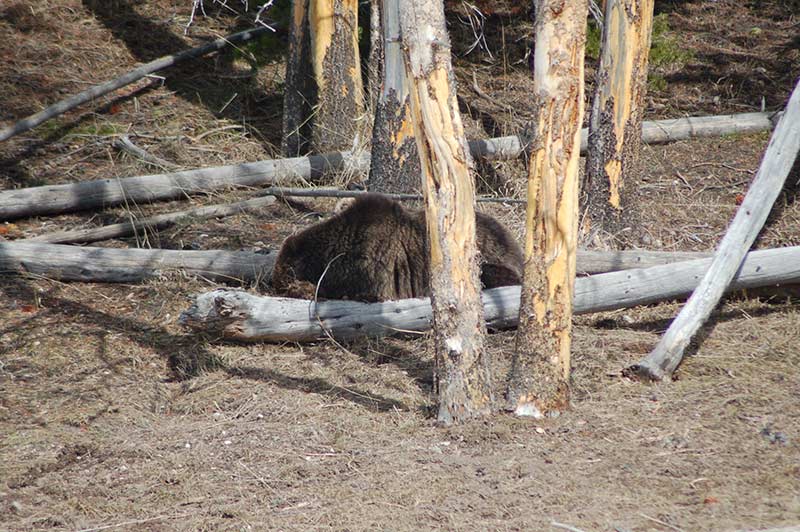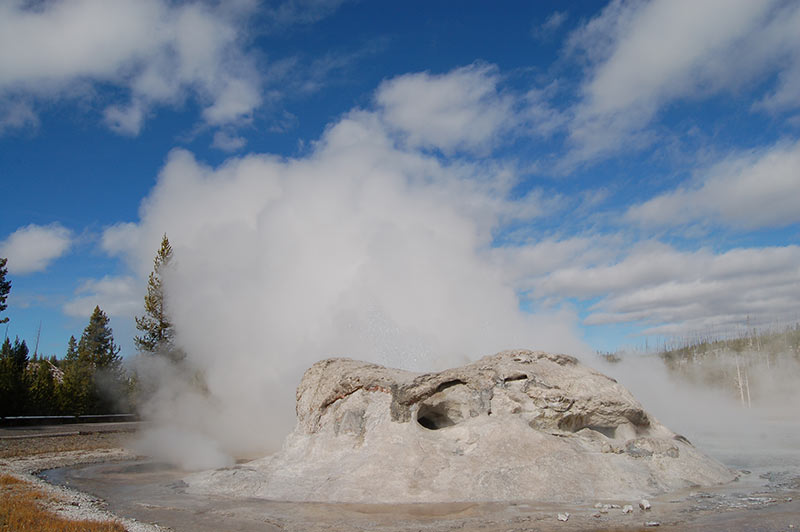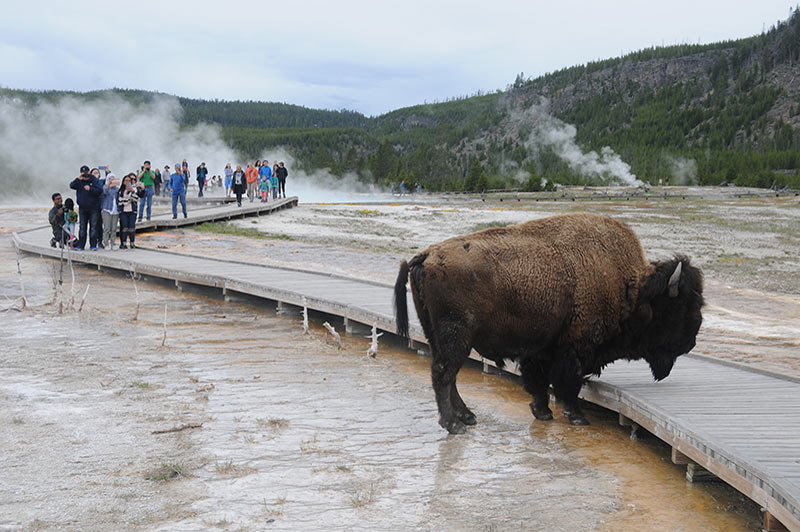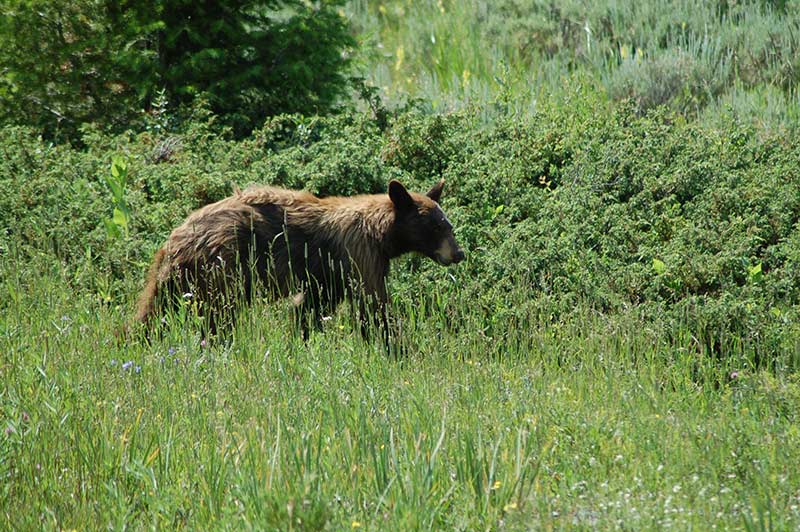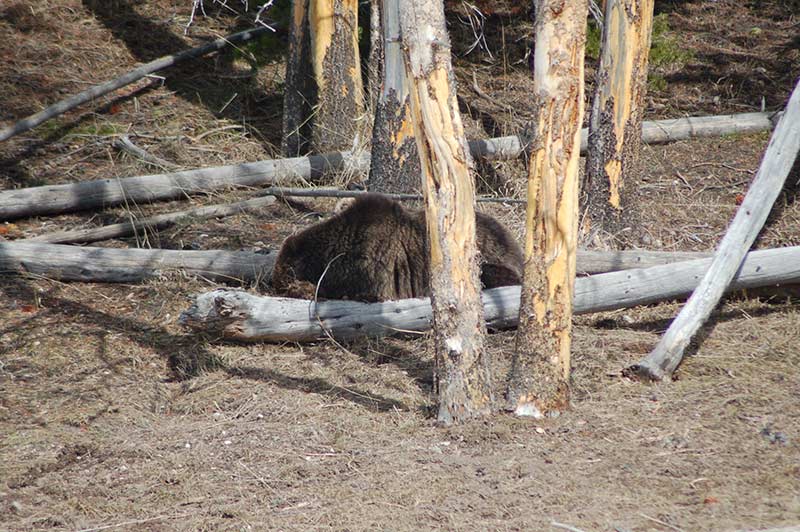 Other Yellowstone Tours From Jackson
Continuing north we stop at Norris Geyser Basin, home of Steamboat Geyser and the most geothermally active area in the park. We then head east to the Grand Canyon of Yellowstone, where we will stop and view the Upper and Lower Falls before going south along the Yellowstone River, through Hayden Valley.
Leaving Hayden Valley, we continue south along beautiful Yellowstone Lake to West Thumb and back out through the south entrance, through the Grand Tetons and on to your hotel and the end of your tour.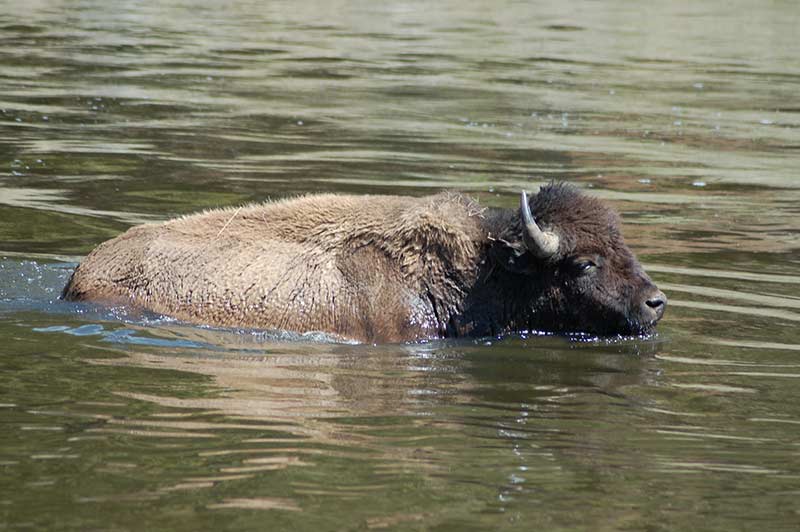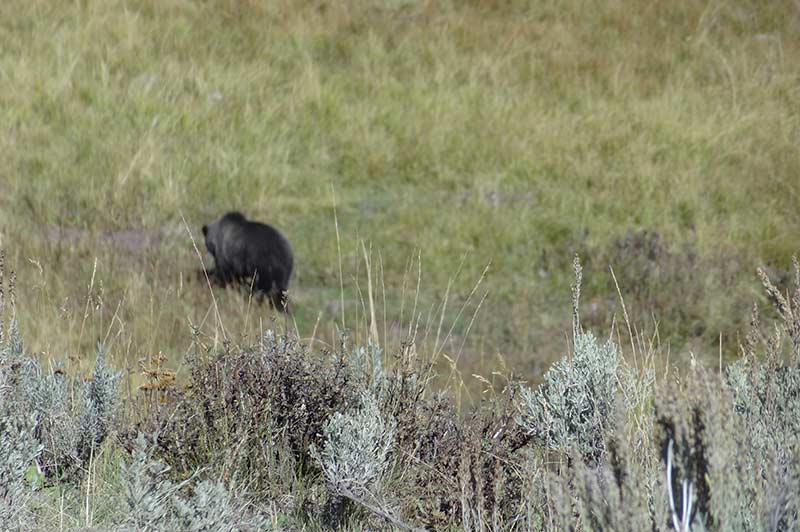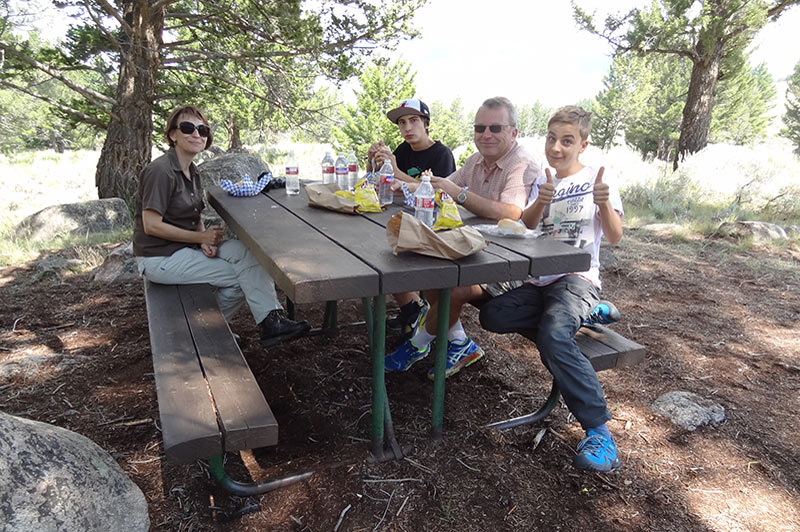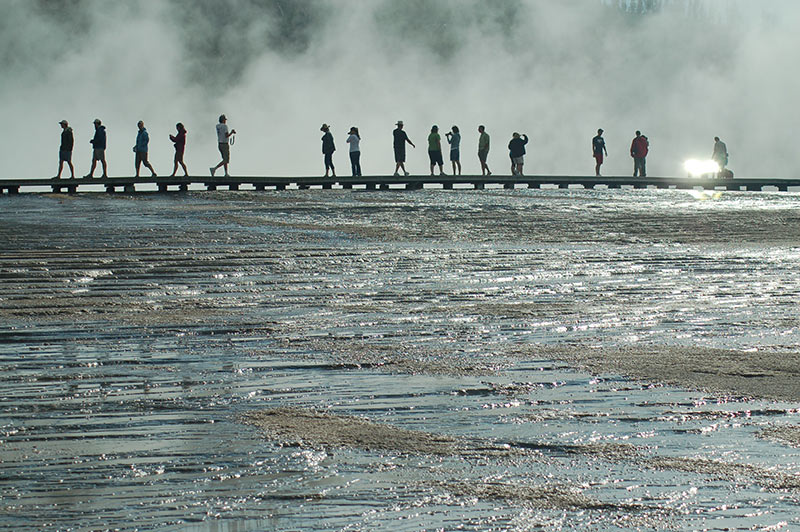 We regret that cancellations and changes will not be accepted, and refunds will not be given. Half the amount may be charged to your card when you make the booking, and the balance will be charged 45 days from the tour date. An attempted or purported cancellation will result in the entire amount being charged to your card immediately.
The credit/debit card you used must be with you when you travel, and should be in your name. If you are booking for someone else, please let us know as you will need to complete the credit card authorization documentation, which we will send you.
You will be picked up and dropped off at your Jackson hotel.
This is a small group tour.
Parts of this tour may be provided by other vendors we use.
Times are approximate. The itinerary may change without notice, and we cannot be responsible for the consequences of delays. At the beginning and end, of the season, road closures and weather conditions may prevent this tour being run as detailed. General road maintenance in the park may affect the way this tour operates.
Please do not make any plans that depend on this tour, until you receive our confirmation email.
The entrance fees to Yellowstone and Grand Teton are not included.
A sack lunch is the only meal included.
Certain minimums may be needed for this tour to operate.